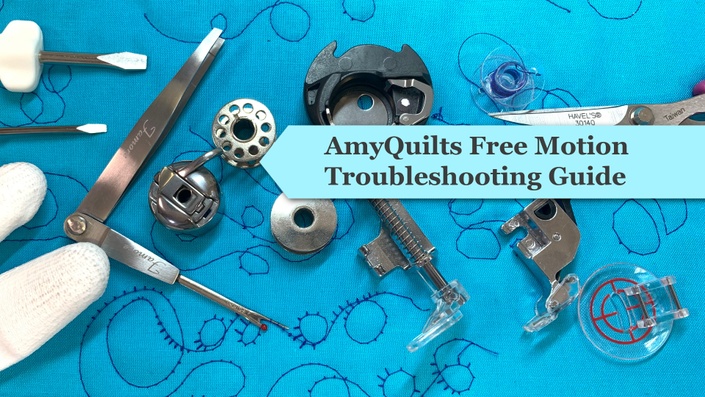 AmyQuilts Free Motion Quilting Troubleshooting Guide
How to get good, and how to fix the bad and ugly.
Watch Promo
Free Motion Quilting, it's a machine technique that combines the artistry of drawing with needle and thread with our sewing machine. Unlike piecing, which interlocks with geometry and the precision of the engineering side of the brain, free motion (FMQ) engages a whole new set of skills and uses the sewing machine in a whole new, imprecise way. It can be challenging as the quilter no longer has the support of several systems of the machine and the added demands of creating a quilting design.
For this reason, it can be a frustrating skill to learn. There are plenty of online resources showing beautiful designs being stitched in free motion, but when it comes to learning what to do when things aren't going as planned, there is a lot of conflicting information out there. Especially when it comes to the mind boggling number of machines and models available for us to use.
If you are blessed enough with a local teacher of free motion who also understands your type of machine, you may not need this course. But for many quilters who have undertaken to learn free motion on their own, had an instructor who was not knowledgeable in machine needs beyond their own brand (We've all encountered a machine snob from time to time.), or encountered what they believe is machine issues with a machine service person who does not do free motion, it can be a real struggle.
Hi! I'm Amy K Johnson and I'm so glad you're here at the AmyQuilts.Teachable Schoolhouse. For nearly 11 years I've been informally helping quilters with free motion quilting, first through my blog, then my AmyQuilts YouTube channel, and eventually on Craftsy where I taught two classes on free motion quilting with rulers, long before it became popular. That all led to the opportunity to purchase Sew Simple of Lynchburg, which was my Janome dealer! Before the original owner retired, he coached up my very handy husband to work on sewing machines and sergers. Eric, my husband then became a certified machine tech through Janome. In just 6 years, he's worked on an estimated 3,000+ machines, only part of them being Janome.
But way before that, I might have been much like you! Struggling to learn how to free motion quilt on my own, on a tiny Kenmore sewing machine. I made a lot of mistakes, but eventually found free motion quilting to not only be a great way to finish and embellish my quilts, but also as an artistic expression unlike anything else I ever tried. It was soothing and meditative too, when things were going right, anyway. It beat the heck out of hand quilting my projects too!
With my free motion teaching experience, insight into many machines, as well as the "inside track" of the interior workings of machines through my husband's experience, I have a unique perspective and experience to help guide you through your own free motion quilting adventure.
In the AmyQuilts Free Motion Quilting Troubleshooting Guide, we will review the basics of free motion quilting (FMQ), how to set up for success, and how to troubleshoot common and some uncommon issues.
Along the way I will give you tips on how to practice and build your fmq skills. It's a learned process, much like riding a bike. You can't just take a single class and go quilt that king-sized heirloom quilt. You'll try and fall a few times, then progress to an unsteady wobble, maybe even fall into a tangled snarl, but after some practice and perseverance, maybe even a few adjustments to your "bike", you'll leave all that trouble behind. You'll still occasionally face a quilting accident, but you will gain the experience to troubleshoot the issue on your own with confidence.
I'll also be your most enthusiastic encourager!
New skills take time to learn and the first step will be to be bad at it. I'll be with you as your guide along the way. The course is broken down into logical steps to follow and troubleshoot on your own. At the end of each lesson, you can ask questions, post photos of your progress (or problems), and I will answer you.
Unlike my popular AmyQuilts Clubhouse membership (for certain Janome models only), this is a true course where you make a one-time purchase and continue to have access to the material and the ability to ask questions in the lessons. There is no live portion to this class to interrupt your schedule. You take in the content as it fits your busy life. Should you need more interactive help, you are invited to ask questions during my weekly live videos on the AmyQuilts Facebook page.
The course is not machine specific, whether brand or model. In the guide, I'll show you have to identify the type of machine you have, regardless of brand and model, so that you can follow the appropriate troubleshooting steps for that type of machine.
What does it mean to troubleshoot anyway? We often think of it as figuring out a problem, but it's actually more of a frame work to follow, to sort through issues you may encounter and fix them. Wikipedia defines troubleshooting as:
Troubleshooting is a form of problem solving, often applied to repair failed products or processes on a machine or a system. It is a logical, systematic search for the source of a problem in order to solve it, and make the product or process operational again. Troubleshooting is needed to identify the symptoms.
Not only will this troubleshooting help you identify the symptoms, it will also give you the solution to solve the problem!
Your Instructor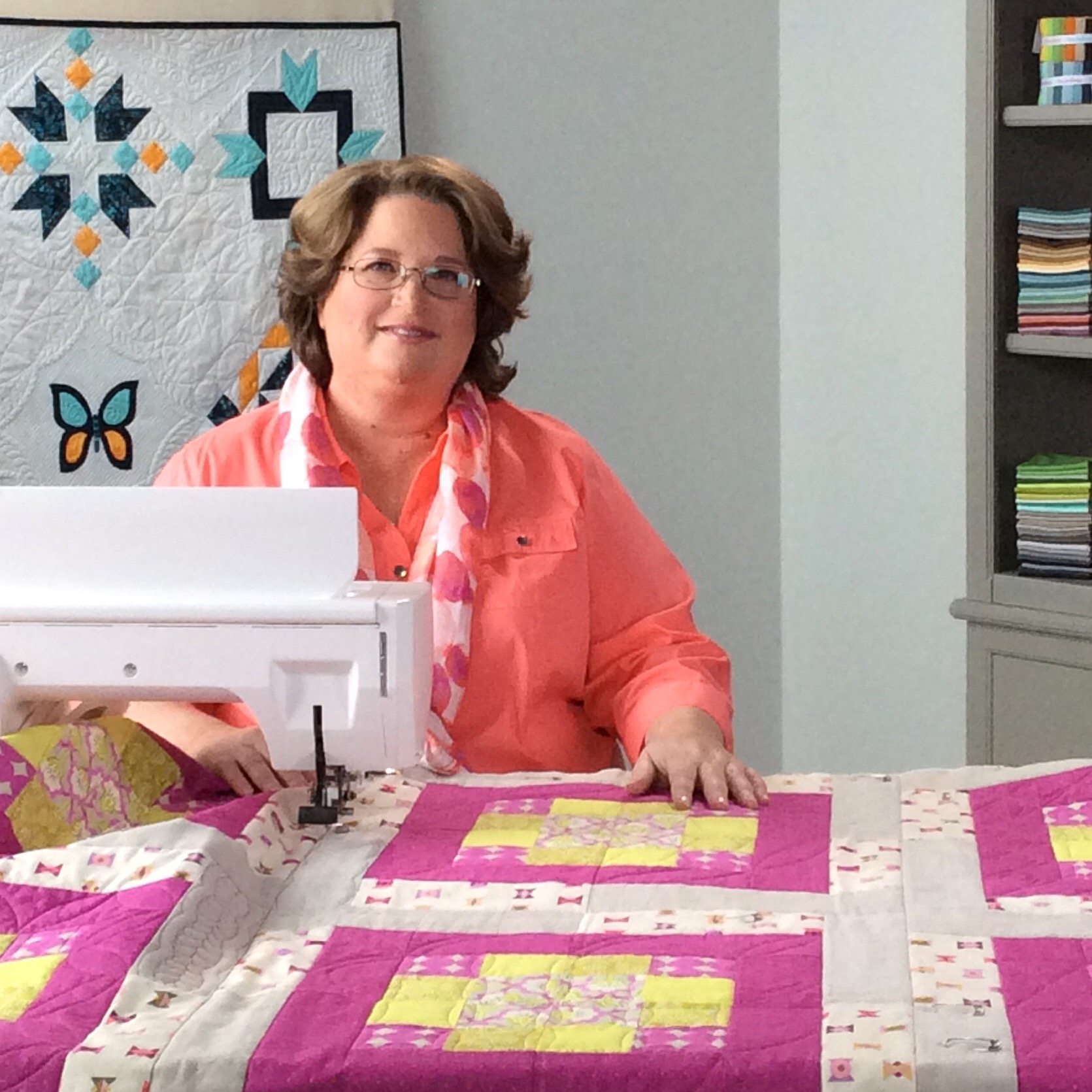 Amy is the owner of Sew Simple of Lynchburg and AmyQuilts.com and is known for her comfortable, laid back teaching style. Quilting since her teens, Amy is happy to encourage, inspire and instruct students of all skill levels, backgrounds, and ages.
Frequently Asked Questions
When does the course start and finish?
As soon as you purchase it! It is a completely self-paced online course - you decide when you start and when you finish. However, because I often run across examples to share of issues as I teach free motion, as a bonus, I will add those to the course. You are encouraged to check back occasionally to check out those bonus segments. The Teachable platform keeps track of lessons you've completed and will indicate those you have not watched.
How long do I have access to the course?
How does lifetime access sound? After enrolling, you have unlimited access to this course...... Amy here, the start of this answer is provided by Teachable and I just couldn't let it claim "lifetime" access. As a Craftsy instructor who saw that platform nearly disappear before going through major restructuring and eventually most members regained "lifetime access" to most of their classes, I have to point out that "lifetime" is a pretty bogus and undefined claim. What I will say is that you will have access to the material as long as I stay in business! I see no reason for that to end and the fee to keep my courses on Teachable is very, very, reasonable. So maybe that's my lifetime?
What if I am unhappy with the course?
We would never want you to be unhappy! If you are unsatisfied with your purchase, contact us in the first 30 days and we will give you a full refund.
I can't make the videos work with the Teachable app on my mobile apple device.
The app is not compatible with the video player extras you will find in my lessons. These include really good closed captions, a transcript in the video player, and the most awesome of all, the ability to enter search terms and search the video for where I used those terms! The whole AmyQuilts School does work great with Chrome on all mobile devices and desktops. Other browsers should do well too.
Do I have to use a Janome?
Absolutely not! While I can give my best answers on a Janome, I break down sewing machines into a few types and then adjust my teaching to these different types. These include mechanical sewing machines, electronic/computerized machines, machines with vertical bobbin cases versus drop in bobbin cases, and higher end machines with auto presser foot lift and special settings. It is only the last category in which you may hear me give an answer of check your manual for specific settings, but I am familiar with all of these types of machine across brands. Nearly all free motion quilting issues are the same across brand and type of machine.
I have a sit down long arm. Will this class help me?
Absolutely! While I will not cover any stitch regulator or menu options for sit down long arms, the rest of the content is very applicable to your free motion quilting adventure.
Free motion quilting is unlike any other machine technique, with so many variables that it can be intimidating.
Enroll in the AmyQuilts Free Motion Troubleshooting guide and you will learn how to effectively troubleshoot issues and save time as you also learn techniques that help you develop better stitches, so you can get back to enjoying finishing your quilts the way you want them finished.